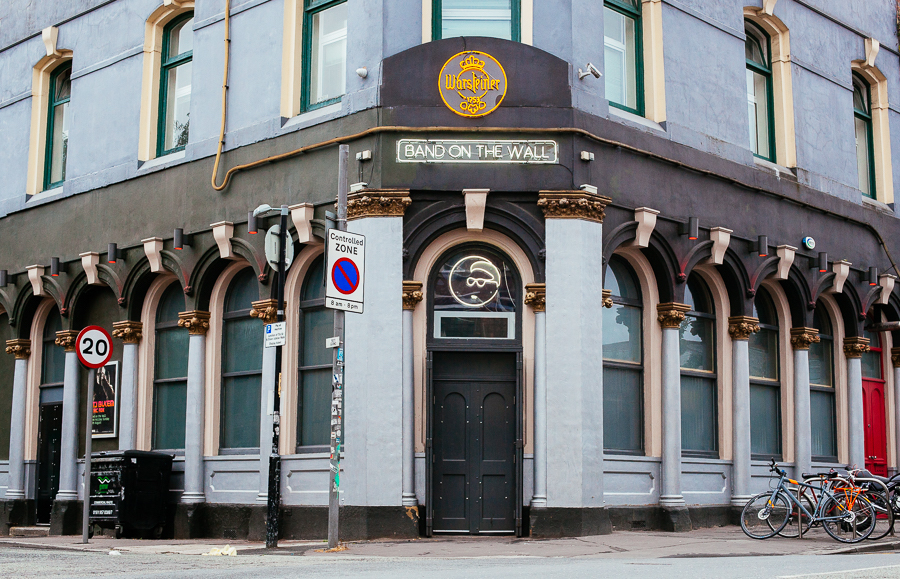 Band on the Wall is temporarily closed while we undertake our long-planned venue expansion and renovation project. We'll reopen our doors in March 2022.
Band on the Wall has been a cornerstone of Manchester's thriving music and cultural landscape for two centuries. Our mission is to promote equality and diversity through music and to bring leading artists from around the world to the stage – both at our award-winning Manchester venue and nationally, through touring programmes and trailblazing creative music projects.
Our unusual name harks back to the building's days as The George and Dragon pub in the early 20th Century. Regulars would affectionately refer to the 'Band on the Wall' as the place where house musicians quite literally played on a stage halfway up the back wall to make room in the busy pub.
While gaining a reputation for bringing the finest jazz, folk, blues and international music to Manchester, Band on the Wall also found itself at the centre of Manchester's famed post-punk scene in the late 1970s when Buzzcocks, The Fall and Joy Division played some of their earliest concerts at the venue. In 2009, we reopened after a period of closure and extensive refurbishment, during which we installed a sound system that guarantees the best live music experience in a venue of our size, completely renovated the venue and expanded to open our new bar.
Our archive seeks to ensure that details of all performances that happen here will not be lost. This is an ongoing project, and you can explore previous concerts by visiting our archive and YouTube channel.
Band on the Wall is a living music library; a place where everyone can access and enjoy the most inspiring music from a wealth of different cultures. We are committed to providing opportunities for everyone to be involved in making and experiencing music.
A Multi Award-Winning Venue
2010 – City Life, Best Night Out
2011 – NME, Best Small Venue North West
2012 – Manchester Tourism Awards, Best Entertainment Venue
2014 – Live UK Music Business Awards, Best Venue Team
2017 – Live UK Music Business Awards, Best Venue Team
2018 – City Life, Best Clubnight (Craig Charles Funk & Soul Club)
2019 – City Life, Best Live Venue
2019 – Attitude Is Everything, Live Event Accessibility
2019 – Live UK Music Business Awards, Best Venue Team
Charity No. 516351. Company No. 01893979. VAT No. 408 2612 73