Join LayFullstop on Saturday 13th November 2021 for a very special show to celebrate the launch of her brand new mixtape 'STiR' at one of our favourite new live spaces in Manchester, The Yard. 
Along with a full live performance of the mixtape, Lay will be premiering a new short film, and taking part in a Q&A.
STiR VINYL PRE-ORDER
For just £10 grab yourself a gig ticket and pre-order a discounted copy of STiR on stunning 12″ vinyl (released April 2022 via Band on the Wall Recordings) – just select the vinyl pre-order option at checkout.
Buy a gig ticket and 12″ vinyl here.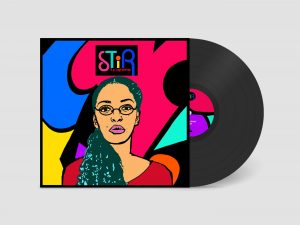 TICKETS ON SALE 10AM 22 OCT
LayFullstop is a jazztronica artist from Manchester, by way of Birmingham.
From Lay's accredited first project 'The Blue Compilation', she has come a long way from her signature jazz-infused, lo-fi sound and delivery.
With her Christian faith as the driving force behind the shift, Lay's music now holds deeper sentiments consisting of spirituality, hope and hardships.
LayFullstop's new mixtape 'STiR'; sets to do just that, screaming of a new found independence and a unique appreciation for jazz music. 
Lay's passion for development has also transpired into becoming a credible voice of reason, an emerging leader using not just her music, but her platform as a means of sharing truth and aspiration which is needed now more than ever.
A prolific creative, she has built momentum with her shows across the UK and across Europe. Not forgetting 2019 Lay's Cherries EP, and A COLORS SHOW performance which garnered the attention of taste makers and publications around the world, all who are waiting earnestly for the next move from LayFullstop.