18 x 12 inch poster prints and handmade limited edition silver gelatin prints on sale now – portraits and live concert photographs of the giants of jazz. Featuring Dizzy Gillespie, Tony Bennett, Miles Davis, Herbie Hancock, Nancy Wilson, Sir Paul McCartney, Macy Gray, Wayne Shorter and many more.
Photographer William Ellis is widely acknowledged as having created an important document of the contemporary jazz scene.
His contribution to the culture was recognised by the American Jazz Museum in Kansas City when he was invited to produce the Inaugural International Exhibition in 2005, and where he returned in 2008 to present his work in the 'Jazz in Black and White: Bebop and Beyond' exhibit. William's work has been exhibited at international festivals and galleries throught the world including 'Modern Works on Paper' at the Royal Academy of Arts.
18 x 12 inch poster prints are made on premium quality Fujicolor Crystal Archive Paper.
Artist's Edition – Handmade Silver Gelatin Prints
In addition to poster prints, we also have 'Artist's Edition' handmade silver gelatin darkroom prints available. Each print is handmade in the darkroom by the photographer himself using the original negative and is made on gloss fibre based paper – the process requires technical and craft skills which are extremely rare in todays digital world. The photograph is signed, numbered and 'Artist's Edition' embossed and is limited to 20 pieces worldwide. The paper used is gloss Ilford Warmtone Fibre Based Paper. It has been selected for the luxuriously rich prints it renders.
The photographs in this collection were taken using largely Leica M series and Hasselblad cameras. Film stock was Kodak Tri-X and Ilford HP5. The negatives printed in Leitz and De Vere enlargers.
Silver gelatin photographs are hand made in the darkroom from the original negative applying a craft process which dates back to the 1880s.
This process is carried out on the fly and requires quicksilver creative judgement and technical skills which are extremely rare in todays digital world.
Each silver gelatin print is in itself a unique piece displaying subtle variations. The depth of tone and richness of a silver gelatin print have a presence that are absolutely captivating.
Christmas 2020 Offer – Free Poster Print with Every Silver Gelatin Print
For a limited time only, every order of a handmade silver gelatin print comes with a free poster print of your choice. we'll email every customer individually for you to select your choice.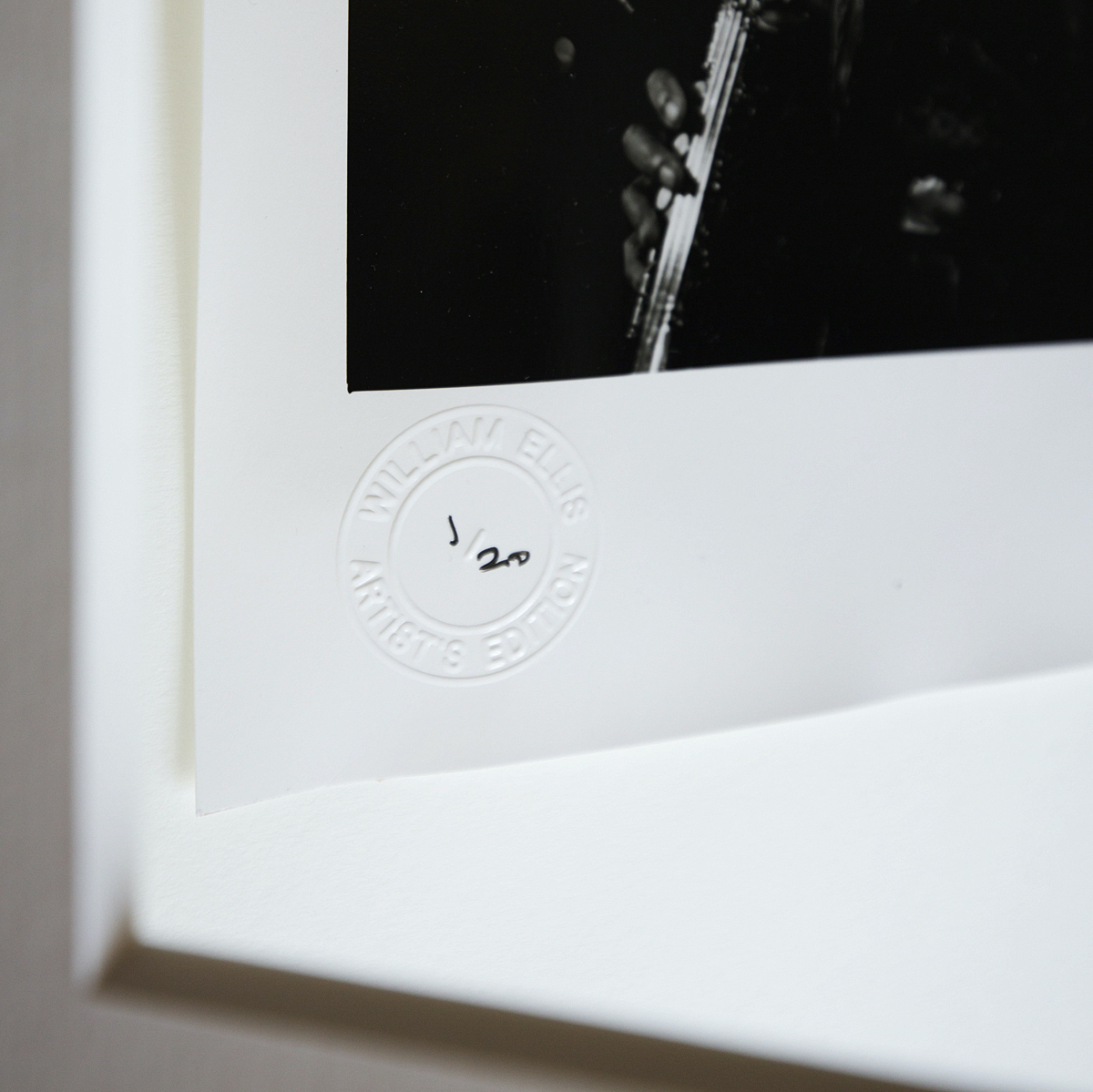 "Over the past few months I've been reviewing my archive and happily rediscovered film negatives of Dizzy Gillespie, Miles Davis, Nancy Wison, Betty Carter, Tony Bennett and Paul McCartney – to name just a few.

This inspired me to set up a tardis-like darkroom and, after a 20 year gap began to make silver gelatin prints by hand using a process dating back to the 1880s.

This tactile process is carried out on the fly and requires quicksilver creative judgement and technical skills which fortunately began to come back to me just before the waste bin was full of 'not quite perfect' prints. Each silver gelatin print is an interpretation of the original negative.

The print must first be envisaged and then created by setting the overall exposure and contrast and by then making fine-tuned localised adjustments which entails shading areas of the paper by using different shapes with my hands during its exposure to the negative projected by the enlarger lens.

This is all done in real time – and further challenging as the image is not visible on the paper at this point – it appears very slowly in the developing dish and blooms to be fully present after a few minutes.

The collection of photographs is entitled the 'Artist's Edition' and is the ultimate iteration of my work on film with these Jazz Legends. Each is made to order and is limited to 20 pieces.

I hope very much that you are touched by the images of the immensely talented artists I have been so fortunate to work with over the years and look forward to the time when live music will be around again to uplift us at world-class venues like Band on the Wall around the globe."

– William Ellis