Sometimes an idea comes along that leaves you wondering: "why on earth isn't this happening more!?" Babyrocksampler is one of those ideas. In short, it is a pilot series of daytime, family friendly gigs, that parents and carers of kids aged 0-5 years can attend with their children. Its organisers have considered the wants and needs of parents and little'uns alike, designing events that allow parents to continue enjoying high-quality live music, while giving their children an early introduction to the joys of music, all within a safe and social environment. The second instalment of the series sees the genre-bending extraterrestrials Henge take to the Band on the Wall stage and ahead of the show, Babyrocksampler co-producer Amalie has kindly taken the time to tell us more about this novel new project, how the inaugural event went, and how the team have chosen acts for this unique gig dynamic.
What sparked the idea for babyrocksampler, and what has it taken to develop your idea into this pilot series?
'Three things sparked the idea for babyrocksampler for us: first, having kids and realising that there was very limited live music on offer that was parent-and-baby friendly (what was on offer was child-focused, not adult-friendly). Secondly, going to see Melt Banana play their Supersonic Kids Gig in Birmingham, which was run by an awesome company called Capsule. The third inspiration was Japrocksampler, the Julian Cope book about Japanese Rock; I liked the idea of having a series of gigs that introduced parents and kids to different kinds of music. The concept took a little while to get off the ground, mainly because when you have young kids you don't really have much free time… but we were lucky enough to know the excellent folk running Manchester's music venues and who understood what we were trying to achieve.'
The inaugural show took place at YES last month, with Stealing Sheep performing. How did it go and how did the band feel about performing for such a unique audience?
'We were made up with how well our first ever Babyrocksampler show went. It felt like a crazy, pink, sheep-themed birthday party but with glitter and live music – for me, it was extra special, as I'd wanted to involve Stealing Sheep right from the start. It seemed to go down pretty well with everyone, parents and kids alike. Especially the band – they loved it! We couldn't believe how quickly the word got about, and Stealing Sheep told us their fans in different cities including Birmingham, Bristol and London were all asking about when the babyrocksampler show would take place there. We'd love to put on a Babyrocksampler/Stealing Sheep tour so watch this space!'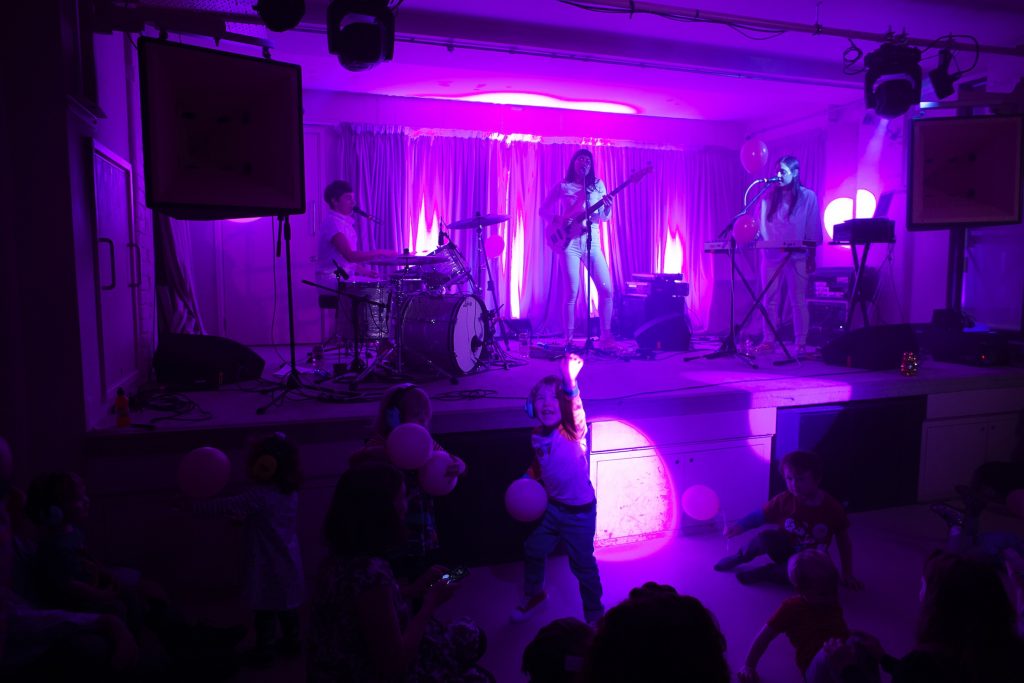 Were you able to get a sense of how the infants reacted to the music?
'A key thing for us is making sure that the gigs are accessible, relaxed and totally safe for parents and kids, so we made sure the capacity of the show was super-low. This was great as it meant that we could see how people were engaging. At the beginning most of the little ones were stopped in their tracks, but by the end they were wild! It was magical to see them running around, dancing, mesmerised and excited in equal measure. Kids were offered age appropriate ear-defenders, so there were also lots of super-cute babies in massive cans – very sweet! We are looking forward to trialling a live-screen link up in the bar area of Band on the Wall where folks can get used to the sound, as we're aware live music can be a bit overwhelming for some of the little ones at first.'
Do you have a criteria for the artists you select for babyrocksampler? Are you thinking about predominantly about the enjoyment of the parents, kids, or a combination of the two?
'Definitely about a combination of the two. There is no other artform that can universally appeal so easily to both adults and kids – it's magic, as far as I'm concerned. You don't need to be able to talk, you don't have to sit still, you don't have to be silent, you can just experience it together. For us it was definitely about programming live touring bands that you wouldn't ordinarily get to see, because the gigs are at nighttime. That's about it. Primarily it's 'for' the adults, but kids definitely get a lot out of seeing their parents, carers and other children, enjoying the music. And who knows, it may even inspire the next generation of musicians – definitely the next generation of audiences.'
You've already had some fantastic feedback from parents whose gig-going had slowed in order to raise their kids. What do you hope projects such as this can offer parents in years to come?
'I really hope that this inspires other promoters and venues to consider doing more to engage with parents of young kids. There is a real demand for more matinee shows where people can bring their families. Ideally it'll be us doing them, but even if not, as long as someone does! There is quite a lot for older kids out there, but those first five years, where babysitters are hard to come by because your kids are too young and not sleeping, you're exhausted and you just want something to do that isn't another park trip or soft play…'
Aside from the pilot series, what music are you currently enjoying? Have you discovered any new favourites over the past twelve months or so?
'One good thing about spending a lot of time at home is that I've been able to listen to tonnes of music – but not being able to see it live has been frustrating! I've been enjoying a totally random mix including Benin City, FAKA, Big Joanie, Miss Red, White Denim…'