Tony Bennett by William Ellis. George Square, Glasgow, Scotland, 2003.
Each print is handmade in the darkroom by the photographer himself using the original negative and is made on gloss fibre based paper – the process requires technical and craft skills which are extremely rare in today's digital world.
The photograph is signed, numbered and 'Artist's Edition' embossed and is limited to 20 pieces worldwide.
Image size is 7.5 x 5 inches and each is presented in a hand-cut 20 x 16 inch double thickness archival mount.
Square image size is 6.5 x 6.5 inches. (Betty Carter, Omara Portundo and Wayne Shorter)
Photographs are made to order so a production time of two weeks should be allowed between placing your order and UK delivery.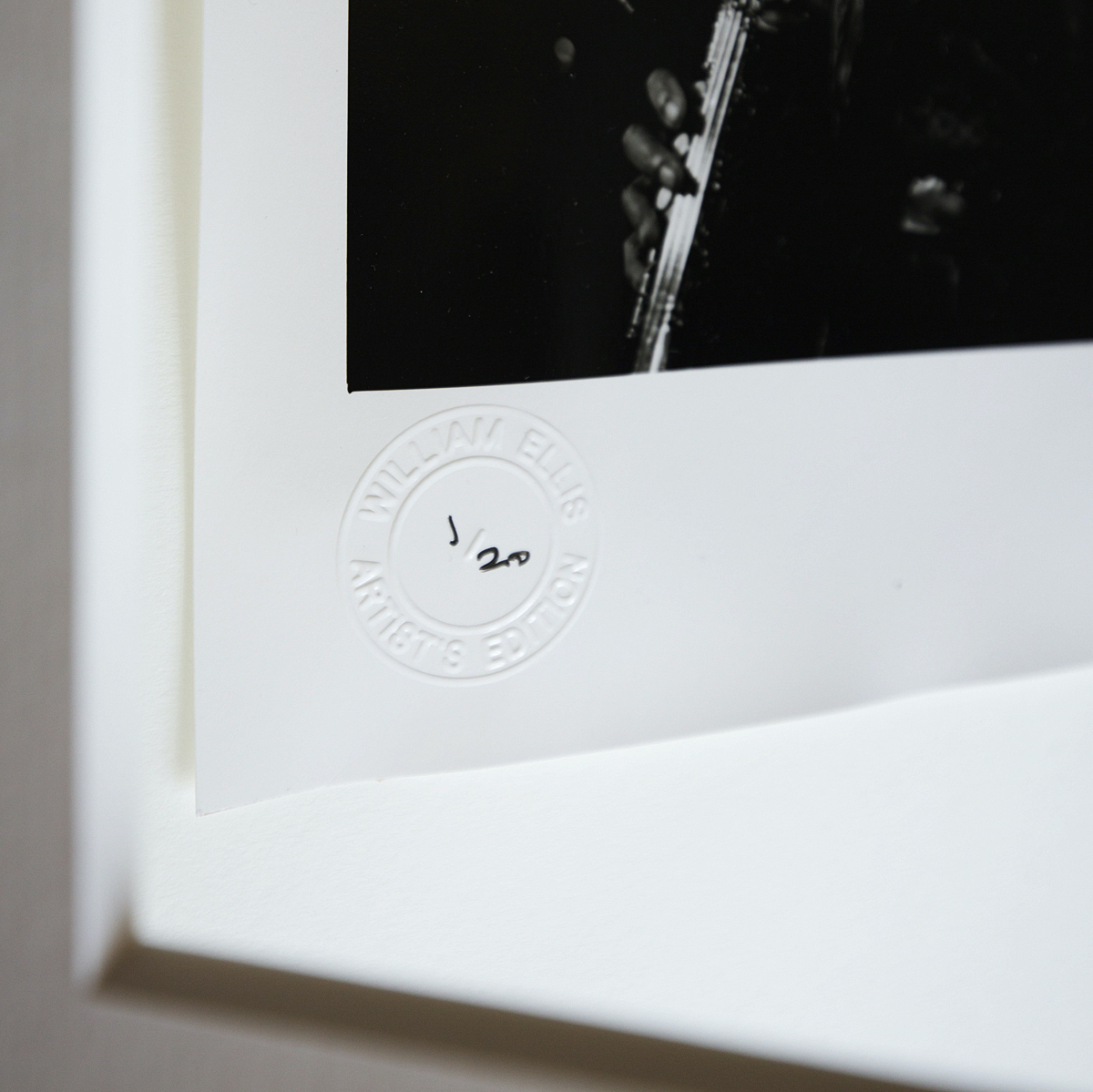 The Negatives
The photographs in this collection were taken using largely Leica M series and Hasselblad cameras. Film stock was Kodak Tri-X and Ilford HP5. The negatives printed in Leitz and De Vere enlargers.
The Paper
The paper used is gloss Ilford Warmtone Fibre Based Paper. It has been selected for the luxuriously rich prints it renders – warm deepest blacks and wonderful creamy whites and all the shades that lay between.
Ellis says: "It might seem a little strange to bleat so rapturous about such an apparently mundane thing as paper: but the print is the ultimate outcome for my work on film and this paper type is the trusty messenger that bears it."
The Photographs
Silver gelatin photographs are hand made in the darkroom from the original negative applying a craft process which dates back to the 1880s.
This process is carried out on the fly and requires quicksilver creative judgement and technical skills which are extremely rare in todays digital world.
Each silver gelatin print is in itself a unique piece displaying subtle variations. The depth of tone and richness of a silver gelatin print have a presence that are absolutely captivating.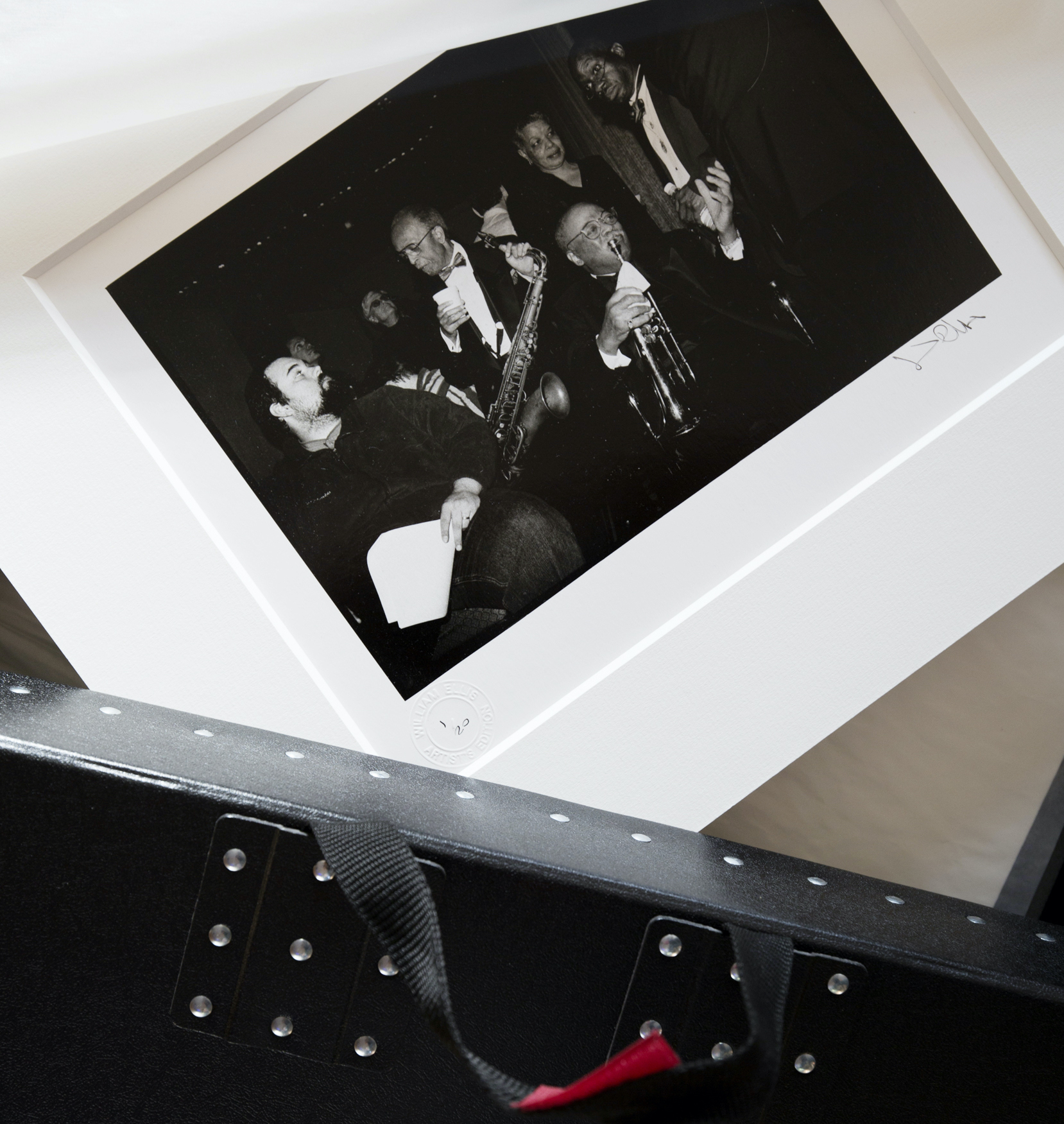 About William Ellis
Photographer William Ellis is widely acknowledged as having created an important document of the contemporary jazz scene.
His contribution to the culture was recognised by the American Jazz Museum in Kansas City when he was invited to produce the Inaugural International Exhibition in 2005, and where he returned in 2008 to present his work in the 'Jazz in Black and White: Bebop and Beyond' exhibit.
William's work has been exhibited at international festivals and galleries throught the world including 'Modern Works on Paper' at the Royal Academy of Arts.
His images have been used in the JAM (Jazz Appreciation Month) Outreach program in the United States initiated by the Smithsonian Institution and many of his pictures are in private collections worldwide – including those of the musicians with whom he has worked.
A number of his photographs are in the permanent collections of The American Jazz Museum, Kansas City – the birth place of Charlie Parker, the ARChive of Contemporary Music, New York City and The National Portrait Gallery London respectively.
William's insightful portraits – exemplified in his One LP Project and telling performance photographs play their part in creating the visual heritage of the international music scene.